Trachele Shields
Broker Associate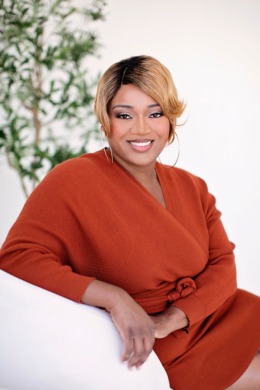 Trachele C. Shields, is a distinguished Realtor®, coach, entrepreneur, and philanthropist. She has a passion for empowering others to achieve their dreams and a relentless drive for success. Trachele has risen to prominence as a top-producing agent, international investor, and a beacon of inspiration for many. Beyond the world of real estate, Trachele has courageously battled and conquered the challenges posed by Lupus, becoming a renowned advocate for the Lupus Foundation of America.
Trachele grew up in a military family. In her family, she learned the values of dedication, discipline, and service at an early age. Inspired by watching her parents navigate the dynamic world of real estate in California, young Trachele found her calling in the realm of property transactions. Intrigued by her parents' real estate agent, Trachele eagerly absorbed knowledge about not just selling real estate but also investing in it. Her first steps in the industry were as a runner for the agent, leaving monthly calendars and magnets on doorsteps - an experience that sowed the seeds of an illustrious real estate career.
Trachele is driven by an insatiable appetite for learning and personal growth. She embarked on a relentless pursuit of excellence. Climbing the ranks as a real estate agent to achieve her Broker's license and multiple industry designations and certifications. She quickly rose to prominence as a top-producing professional, crafting a reputation for her unparalleled negotiation skills and keen eye for profitable investments. As a testament to her expertise, she has authored books on real estate, business and credit, and has empowered aspiring agents to follow in her footsteps.
Trachele recognizes the importance of sharing knowledge and empowering fellow professionals, so she ventured into the realm of coaching. As a real estate coach, she became a guiding light for countless agents, helping them navigate the complexities of the industry and achieve remarkable success. Her transformative courses have earned praise and admiration from the real estate community worldwide. Trachele has been interviewed by and featured in Voyage Jacksonville, Canvas Rebel and The Bold Journey as respected thought leader in the real estate industry. She is also a Five Star Real Estate Agent award recipient.
While Trachele conquered milestones in her real estate career, life threw a formidable challenge her way when she was diagnosed with Lupus. Undeterred by the obstacles, she embraced her role as a Lupus Warrior, finding strength in her journey to inspire others living with the condition. Her dedication to raising awareness and funds for the Lupus Foundation of America has led to becoming a respected Ambassador for the Southeast Region, as well as a Team Captain for the annual Walk to End Lupus fundraiser.
As a passionate advocate for Lupus awareness, Trachele has used her platform to amplify the cause through various media outlets. She has shared her inspiring journey on esteemed podcasts like The Chronically Living Podcast and Wave Rider Podcast, and contributed to Sharecare.com, reaching audiences far and wide. Her collaboration with AstraZenca to create public service announcements for Saphnelo further solidified her status as a fervent ambassador for Lupus awareness.
Beyond the realms of real estate and advocacy, Trachele has cultivated a diverse range of interests and hobbies. A lover of the arts, she has dabbled in acting and expressed her creativity through writing. Her thirst for exploration has taken her on exciting journeys around the world, and her green thumb has led to successful ventures in novice gardening.
Trachele is driven by a love for animals. She is especially fond of dogs and birds and volunteers at local organizations and has served a foster to animals in need. Trachele's empathy extends to working with veterans, an affinity shaped by her upbringing in a military family. Through her philanthropic efforts and compassionate endeavors, Trachele has touched countless lives, leaving an indelible mark on the world of real estate and the Lupus community.
Trachele C. Shields stands as a testament to the heights that can be achieved through unwavering determination, relentless pursuit of excellence, and a heart filled with compassion. As a successful real estate agent, coach, entrepreneur, and Lupus advocate, Trachele continues to inspire and uplift others, proving that dreams can be realized, and obstacles can be overcome with the right blend of passion, resilience, and a giving spirit.